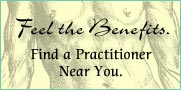 OMA Neuromuscular Integration®was developed by Bill Williams, Ph.D. and his wife, Ellen Gregory Williams, Ph.D. in 1977. As a psychologist, Bill came to realize the vital role that the body plays in achieving deep and lasting psychological change. To this end he taught and collaborated with Ida Rolf in the early development of her well-known fascia manipulation work, Rolfing. It was with her blessing that Williams went on to develop SOMA.

In 1977 they established the first SOMA educational center, in Florida, embracing the body, mind and spirit as a non-separate whole. The SOMA theory and teaching continues to reflect this basic foundation of wholeness of the body, mind and spirit.

In 1986, Karen Bolesky MA, LMHC, LMP, LAMP and Marcia Nolte LMP, Registered Counselor, CLMA, Somatic Movement Educator took over the SOMA Institute and relocated it to Buckley, WA. The training has been developed into a professional licensing program and continues to evolve.

The current generation of SOMA continues to value both the sequencing of sessions, successively unwrapping myofascial layers in keeping with Dr. Rolf's original design, as well as Dr. Williams' contribution of active client involvement in the process of change. Innovations in approach, technique, and the training of practitioners continues to influence the evolution of the SOMA work today. In addition to Structural Integration, graduate practitioners receive Somatic Movement Education that is developmentally based. Following the original blueprint of the human mobility process, practitioners explore with their clients possibilities for a larger sense of somatic integrity, or wholeness of bodybeing through movement and hands-on work.

Learn more about the SOMA Institute of Neuromuscular Integration® at their web site.




"What we call mind and body are not two entities related to each other, but a single unity. Let us use the word, soma, to refer to this unity."
– Carl Ginsburg, Ph.D. International Feldenkrais Trainer