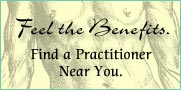 he goal of SOMA is to facilitate your access to your body's deep wisdom. We utilize a series of ten or eleven sessions, each progressively addressing specific areas of your body. This deep tissue technique is slow and steady and is supported by your breath and intention.

SOMA gently removes "blocks" of chronic tension and rigidity, restoring youthful qualities of spontaneity, ease and freedom to your whole system. As a result, you are healthier, more creative, energetic and resilient with greater levels of emotional openness and sensitivity.

Your practitioner may incorporate movement education, dialogue, personal journal keeping, and relaxation techniques, tailoring the process to your individual needs. Photography or drawings may also be used as a means of visually illustrating your transformation.



At its essence, deep tissue work is a form of inner exploration.